CO2 Emissions
Reduction of CO2 Emissions in Cold Storage Warehouses: Switching to Natural Refrigerants
The Nissui Group is switching the refrigerants used in cold storage warehouses at its production plants and logistics centers to natural refrigerants with low environmental impact (such as CO2 and NH3). Our track record in replacing refrigerants with natural refrigerants and newly introducing natural refrigerants with the use of government subsidy projects is as follows.
Reduction of CO2 Emissions during Transportation
Carry Net Co., Ltd., which is one of the Nissui Group companies in Japan, is a transportation company with eleven sales offices (excluding the head office) across Japan. Its role is to deliver Nissui products to our business partners on a daily basis. Centering on frozen transport, Carry Net is capable of executing transportation adapted to all temperature zones such as cold and ambient temperatures. It not only performs deliveries in the respective local areas of its sales offices but also carries out wide-area transportation across Japan by utilizing its fleet of vehicles as well as networks based on its partnership with collaborating companies.
[Modal Shift (Utilization of ferries and other non-international coastal trading vessels)]
Carry Net is making efforts to reduce CO2 emissions by performing transportation utilizing ferries.
In FY2021, Carry Net's modal shift (converting part of transportation operations to marine transportation using RORO ("Roll-on, Roll-off") vessels mainly used for freight transportation owned by partner company, MOL Ferry Co., Ltd.) was recognized by the Ministry of Land, Infrastructure, Transport and Tourism under the Act on Advancement of Integration and Streamlining of Distribution Business, which promotes the integration and efficiency of distribution operations. By reducing the distance of land transportation between Kawasaki and Fukuoka from approx. 1,100 km to approx. 120 km, CO2 emissions can be reduced by 71%. In addition, the time required for a driver to be on the road can be reduced by 87.4%.
(Note): Since 2021, the calculation method has been changed under the guidance of the Transport Bureau.
Specialized Carry Net truck boarding a MOL Ferry RORO vessel
[Trailer Transportation]
Carry Net executes mass transportation based on trailer transportation (Note 1) between frozen food plant depots. Carry Net also conducts switch operation (Note 2), which helps improve drivers' working environment as well.
(Note 1) Trailer transportation: Capable of loading approx. 1.3 times more cargo than large vehicles. Can load 40 sheet pallets.
(Note 2) Switch operation: Operation by switching the head and the trailer.
[Utilization of Double-Deck Trucks]
Double-deck trucks make it possible to realize diversified transportation through partitioning (e.g., frozen temperature in the front compartment and chilled or ambient temperature in the rear compartment), and optimize the inside of the vehicle according to customers' needs. For the transportation of products in different temperature zones, multiple vehicles had to be organized by temperature zone in the case of conventional trucks, whereas with double-deck trucks, the number of vehicles can be reduced by transporting them at once.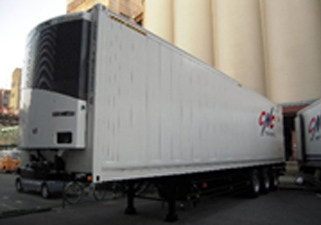 Trailer 40 feet
Inside the container
Reduction of CO2 Emissions at Production Plant
[Switching to Green Energy (Flatfish Ltd.)]
Flatfish Ltd. (UK), which is one of the Nissui Group companies outside of Japan, is engaged in the manufacture and sale of fresh fish and processed seafood products. In 2021, Flatfish changed its electricity supplier in order to reduce CO2 emissions from its business locations. Electricity shared by the new supplier is generated entirely from renewable energy sources, namely, hydraulic power, solar power and wind power. Such change in the supplier translates into a reduction of 266t-CO2/year.
Reduction of CO2 Emissions through Eco-Cars
[Introduction of Eco-Cars into Company Sales Fleet]
Nissui has been promoting the introduction of hybrid vehicles, PHVs and EVs in its sales fleet in an effort to reduce CO2 emissions. Nissui's targets and results of the introduction of eco-cars as a percentage of its sales fleet are as follows.
Scope: Nippon Suisan Kaisha, Ltd. (Nissui)

(Note) PHV: Acronym for Plug-in Hybrid Vehicle. PHV is a hybrid vehicle that can be charged by using an external power source and has a large battery capacity. Even when charged by electricity alone, PHV is capable of traveling longer distances than conventional hybrid vehicles.
EV: Acronym for Electric Vehicle.
Renewable Energy
Solar Power Generation
Calculating CO2 Emissions for the Entire Supply Chain (Scope 3)
It is becoming increasingly necessary to calculate and reduce greenhouse gas emissions not only for the Nissui Group's own operations, but also in the entire supply chain. Nissui has calculated the amount of CO2 emissions from upstream and downstream in its supply chain, otherwise known as Scope 3 (Note) emissions, which refers to emissions other than those generated by fuel combustion or the consumption of electricity during production.

Click here for Scope 3 (Environmental Data)
(Note) Scope 3 emissions: Other indirect emissions not covered by Scope 1 and Scope 2 (emissions from other companies related to the company's business activities).