CO2 Emissions
Reduction of CO2 Emissions at Cold Storage and Logistics Centers
Nissui Logistics Corporation, which is one of the Nissui Group companies in Japan, is a low-temperature integrated logistics services company with 16 logistics centers (excluding its head office) across Japan. It has a series of functions ranging from customs clearance to storage/transportation, and in terms of supported temperature range, it is capable of handling ambient temperatures, in addition to cold/frozen temperatures. It serves as the hub of networks for delivering Nissui products to our business partners.
【Replacing Equipment with High-efficiency Natural Refrigerant Equipment: HFC-Free and Energy Saving】
Nissui Logistics Corporation is replacing its old cooling facilities using designated CFC (R-22) refrigerant with highly efficient natural refrigerant equipment to help reduce environmental impact. The cooling facilities in its cold storage are large in size and have a high output capacity. In proportion to these features, the refrigerant contained in them is large in volume, giving rise to the risk of inflicting a huge environmental impact in the event of leakage. For this reason, Nissui Logistics Corporation has been assessing the refrigerant leak risk of its facilities and is replacing them, starting with high-risk facilities. When selecting new natural refrigerant equipment, the size of the cold storage warehouse and the cooling load associated with refrigeration are taken into consideration.
【Improvement in Putting Products In and Taking Products Out of Storage: Energy Saving】
Creativity is exercised to save energy when putting products in and taking products out of storage, such as preventing cool air inside the storage from leaking outside.
(Note) Truck berth: Space where a truck is parked to load and unload cargo (products).
Reduction of CO2 Emissions during Transportation
Carry Net Co., Ltd., which is one of the Nissui Group companies in Japan, is a transportation company with eleven sales offices (excluding the head office) across Japan. Its role is to deliver Nissui products to our business partners on a daily basis. Centering on frozen transport, Carry Net is capable of executing transportation adapted to all temperature zones such as cold and ambient temperatures. It not only performs deliveries in the respective local areas of its sales offices but also carries out wide-area transportation across Japan by utilizing its fleet of vehicles as well as networks based on its partnership with collaborating companies.
【Modal Shift (Utilization of ferries and other non-international coastal trading vessels)】
Carry Net is making efforts to reduce CO2 emissions by performing transportation utilizing ferries.
【Trailer Transportation】
Carry Net executes mass transportation based on trailer transportation between frozen food plant depots (Note 1). Carry Net also conducts switch operation (Note 2), which helps improve drivers' working environment as well.
【Utilization of Double-deck Trucks】
Double-deck trucks make it possible to realize diversified transportation through partitioning (e.g., frozen temperature in the front compartment and chilled or ambient temperature in the rear compartment), and optimize the inside of the vehicle according to customers' needs. For the transportation of products in different temperature zones, multiple vehicles had to be organized by temperature zone in the case of conventional trucks, whereas with double-deck trucks, the number of vehicles can be reduced by transporting them at once.
(Note 1) Trailer transportation: Capable of loading approx. 1.3 times more cargo than large vehicles. Can load 40 sheet pallets.
(Note 2) Switch operation: Operation by switching the head and the trailer.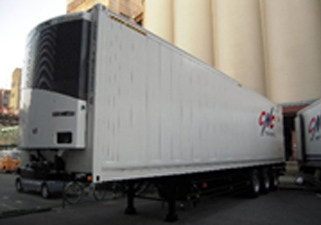 Trailer 40 feet
Inside the container
Reduction of CO2 Emissions at Production Plant
【New Plant's Countermeasures against Global Warming Adopted as Projects Eligible for Joint Crediting Mechanism (JCM) (Thai Delmar Co., Ltd.)】
Thai Delmar Co., Ltd. (Thailand), which is one of the Nissui Group companies outside of Japan, completed the construction of its new plant at the Asia Industrial Estate (AIE) in January 2020 and launched its operation in May. At the new plant, an "energy-saving freezer unit" by MAYEKAWA MFG. CO., LTD. and a "solar power generation unit" by TOSPLANT ENGINEERING (THAILAND) CO., LTD. have been installed in an effort to reduce greenhouse gas emissions. These were adopted as projects within the scope of the Joint Crediting Mechanism (JCM) (Note).
・ Energy-saving freezer unit: Installed as the freezer unit of the cold storage warehouse for raw materials and cold storage warehouse for products (capacity: 28,000m3). In 2020 (from April to December), power consumption was reduced by 1,462,324kWh, and CO2 emissions were reduced by 851mt-CO2 (compared to 2019).
・ Solar power generation unit: The solar power generation system at the new plant supplies electricity to the electric power system of the plant's cold storage warehouse and effluent treatment facilities/lighting facilities/air-conditioning system. In 2020 (from April to December), the result was power generation/usage of 957,843kWh, translating into CO2 emission reduction by 557mt-CO2.
(Note) Joint Crediting Mechanism (JCM): JCM is a system under which Japan cooperates with partner developing countries to make efforts to reduce greenhouse gas (GHG) emissions, the result of which is shared between the two countries. JCM promotes the dissemination of Japan's excellent low-carbon technologies, products, systems, services, infrastructures, etc. and the implementation of countermeasures in developing countries, quantitatively assesses Japan's contribution toward GHG emissions reduction/absorption realized through such activities and utilizes the findings to achieve reduction targets.
Reduction of CO2 Emissions through Eco-cars
【Recommendation of Eco-cars to Employees (Nordic Seafood A/S)】
Nordic Seafood A/S (Denmark), which is one of the Nissui Group companies outside of Japan, is a distributor of seafood. As employees' means of commuting and sales, Nordic Seafood recommends the use of eco-cars (i.e., electric and hybrid cars). Nordic Seafood has developed an environment in which its employees can proactively utilize eco-cars, having installed in-house charging stations and enabled its employees to use a charging subscription service (Note) outside the company.
(Note) A flat-rate subscription service. Example of the flow of use: To use charging stations managed by a company, a member authentication card (charging card) is acquired by paying a monthly fee; the member-user will then be able to use charging stations managed by the company at any location.
Renewable Energy
Solar Power Generation
【Purchase of Electricity Generated by 100% Renewable Energy Sources】
Especially among Nissui Group companies outside of Japan, progress is being made in purchasing electricity generated exclusively by solar light, wind power, hydraulic power and other renewable energy sources.
Purchase Results
Plan/Target